IRI DarkShield


Discover, Deliver, and Delete PII in Dark Data

Got Dark Data?
Up to 90% of collected or generated corporate and government data remains hidden in unstructured files, or so-called dark data repositories. To mitigate the legal, financial, and reputational risk of exposing personally identifiable information (PII) in these often obscure files, and to comply with data privacy laws like the GDPR, you need a way to rapidly locate and secure the PII in them.
From the makers of the award-winning IRI FieldShield and CellShield data masking software in the IRI Data Protector suite and IRI Voracity platform comes IRI DarkShield, a compatible new product for the discovery, delivery, de-identification and detailing of PII and other sensitive data in unstructured files.
IRI DarkShield represents a breakthrough in unstructured data masking technology, speed, usability, and affordability. DarkShield consolidates and multi-threads the search, extraction, remediation, and reporting of PII in multiple file formats and folders on your network. DarkShield combines the best of IRI data masking, proven search technologies, and Eclipse™ to provide a single, user-friendly interface for running everything at once or in scheduled steps. And, as usual, IRI makes this solution affordable through flexible licensing options based on source volume, license duration and other features needed.
Search
Search multi-threaded through dark data repositories system- or LAN-wide (via SMB) to ensure that data you're concerned about, or values you're specifically looking for, are found. Define your data classes and masking rules, and match them with three different search techniques: 1) RegEx patterns, 2) look-up set value matches, 3) NLP models you can rapidly train to recognize named entities (NER).
You can reuse and share your data classes, search criteria, set files, and rule matchers in project or cloud repositories. And, because DarkShield runs in IRI Workbench alongside other IRI and Eclipse tools, you can do many other things with your DarkShield search results; see Extract next.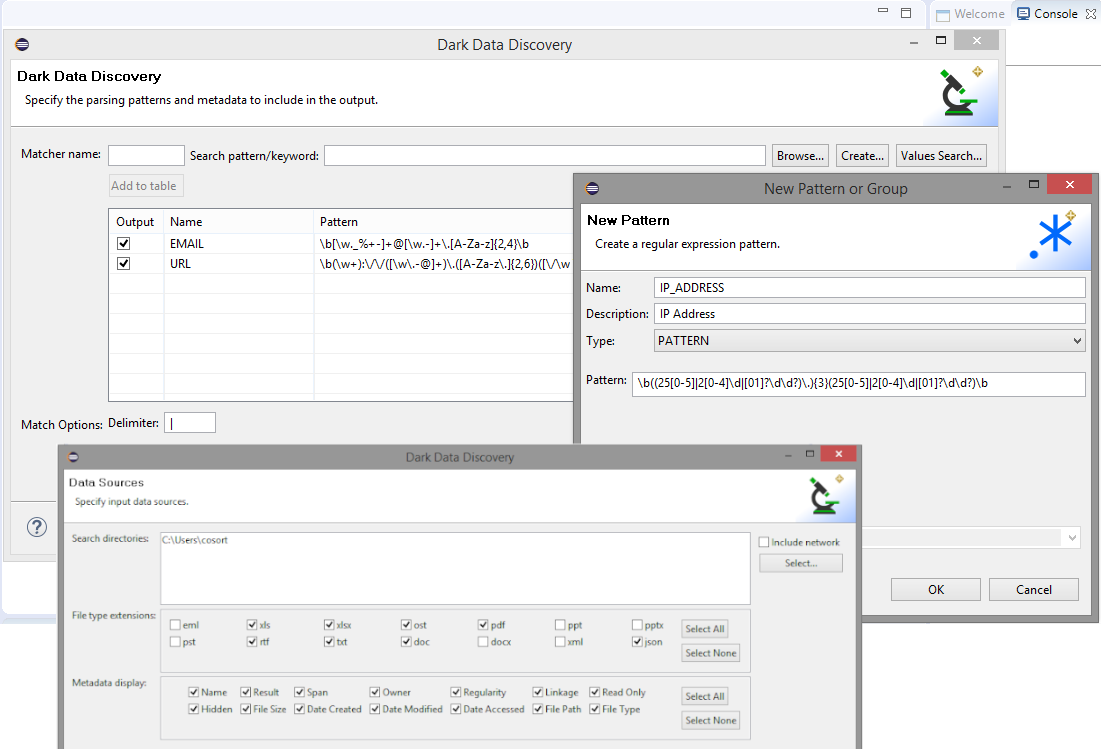 Extract
Generate the results of your search in a flat file that also contains forensically useful metadata attendant to each file containing the values you searched for. The search report can be used for e-discovery and delivery to EU citizens requesting "data portability" or for deletion proof where you are granting their "right to be forgotten" from these repositories.
If you license DarkShield as part of an IRI Voracity data management platform subscription, you can further manipulate and manage this data in ETL, analytic, and notification work flows.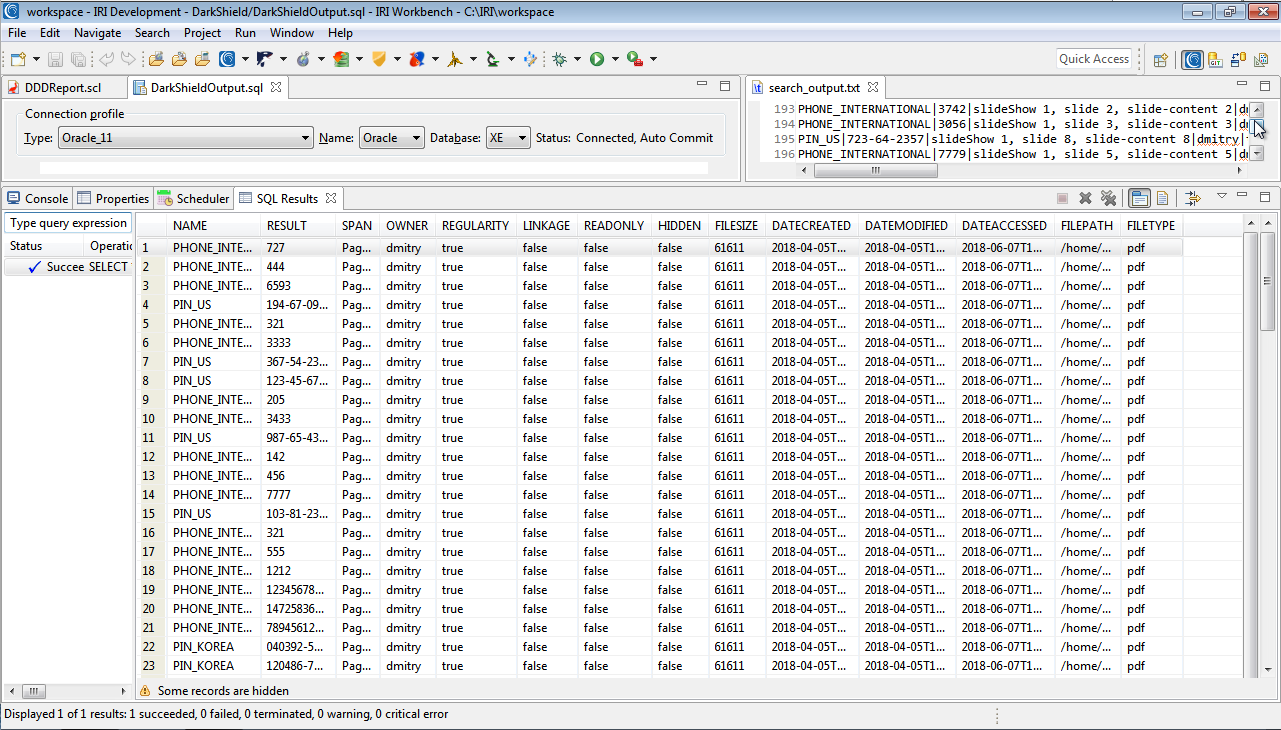 Mask
Apply width-preserving or other static data masking functions, including:
● Format-preserving (or not) encryption
● Lookup pseudonymization
● Redaction / obfuscation
● String manipulation
● Bit scrambling
● Encoding
● Hashing
to de-identify sensitive information and comply with data privacy laws. The files are visually identical to their unmasked counterparts, except for the masked strings. You can also write output to the same-named files in cloned directory trees to ease the reconciliation process.
Masking jobs are easy to modify and schedule. Subsequent search/mask operations will automatically cover new files in the source folders as well as those updated since the last search.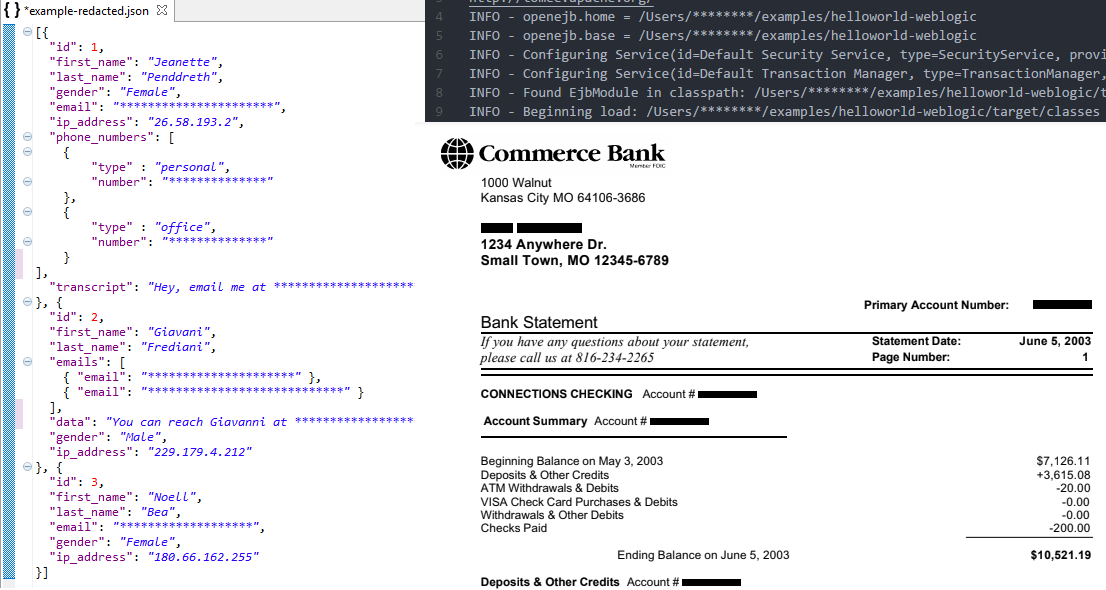 Audit
Easily query, analyze, and format the results of the search and mask operation through built-in reporting functionality, or visualize them. Right click on the results file to display information about the discovered (and masked) data in an interactive dashboard (below).
You can send also this data to your SIEM/SOC tool (see Splunk ES example below), build custom 2D reports from the data in Voracity, or graph the data in another data visualization tool like BIRT, which shares API-level integration in Eclipse with DarkShield, Voracity, and other IRI data management and masking tools.
DarkShield generates a report of all the values found, along with accompanying file metadata. Overall job status in progress is reported through a real-time progress bar. It creates metadata for use in log query and reporting operations.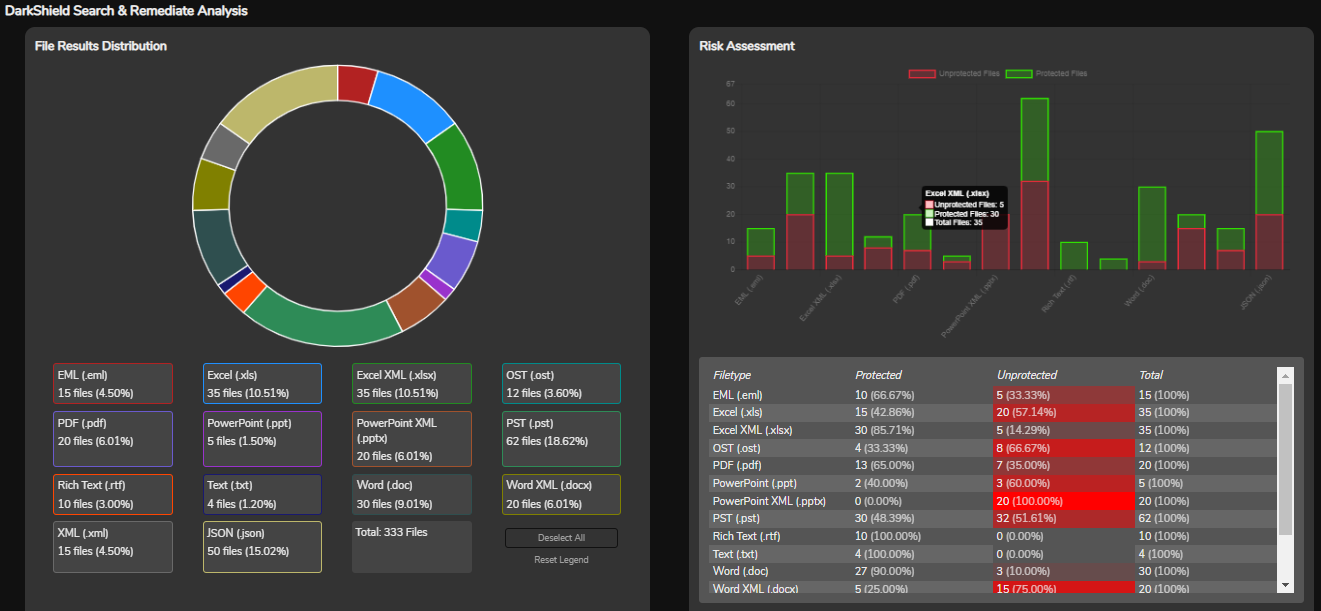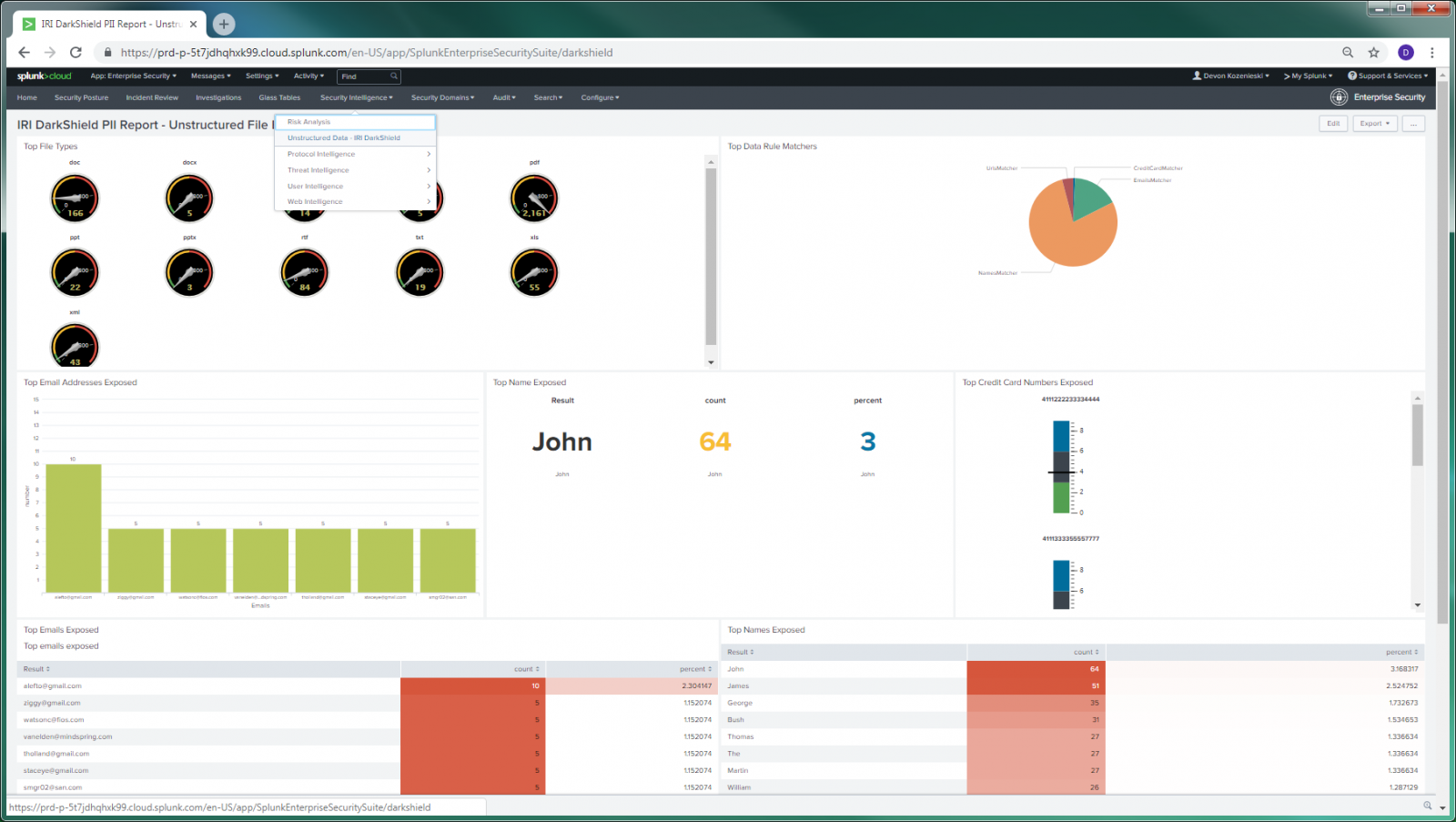 Platforms & Licensing
IRI DarkShield requires at least 1 copy of the IRI Workbench IDE, built on Eclipse™. You can run IRI Workbench on any Windows, Linux, or MacOS (Sierra) laptop or workstation.
IRI DarkShield can be licensed in any one of three different ways:
Standalone, for perpetual use, between 3.500€ and 35.000€, depending on work volume.

Bundled and discounted with one or more other perpetual use IRI Data Protector or IRI Data Manager suite products. Perpetual use licenses include the first year of support.

Leased for 1-5 years within an IRI Voracity data management platform subscription, which includes support.